Vacation is just around the corner and you are just like me who wants to escape the cold here in Europe. Getting older is no fun when you have joints aching because of the harsh cold weather. So for some of us, we prepare for this time by going to another tropical country and soak all the sun. Last year, I had chosen to come back to Vietnam. I have been in other tropical countries but I want to go back to Vietnam that time. During my first trip in Vietnam is a just a small glimpse of Saigon cause I was just there for 2 days before leaving for Japan.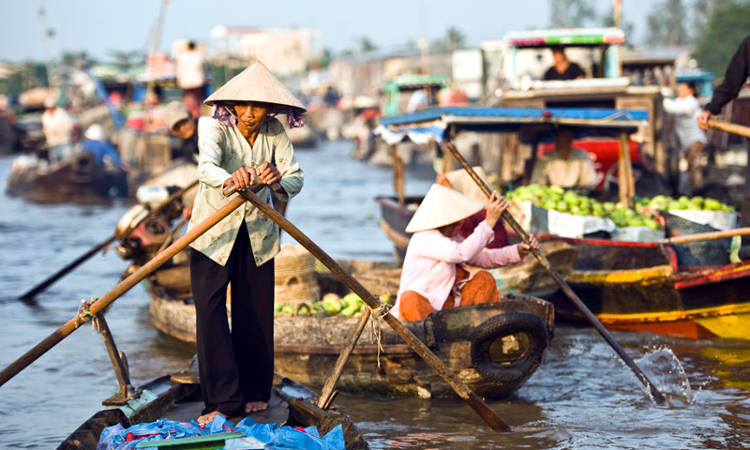 I was with my friend on that trip but since the time is short, we were not able to stroll around and have a proper tour. Last year, we stayed for a week and got to know more about this country. You must have heard a lot of things about this small country but mostly because of the beautiful women, the majestic beaches, the hot tropic climate, music and its history. But you can only get a grasp of how beautiful this country truly is once you get to the other Mekong Delta tour. Last year I happened to try the Mekong Delta Tour 2 days 1 night.
When I first heard of Mekong Delta, I was intrigued as to why the tour agencies have such package, so I went into investigating and discovered that there is so much to see in just touring the Mekong Delta. I love nature and this is just perfect for me. With this tour you can get to enjoy nature at its finest and get clean fresh air while getting to know more about the people's culture, tradition and heritage.
Mekong Delta is very long and huge river that run south towards the South China sea and is home to thousands of species. It is both covered at its sides with green, luscious vegetation of corn, rice, vegetables and fruits. There are many things to see and enjoy.
So, last year this is the package I tried and I love it. First you will get to have a ride on a small boat through the islands found in upper Mekong river where you will enjoy rowing under the sway of coconut trees found among the banks of the river. You will also get to pick and eat some seasonal fruits at the orchards that you can find while talking to the local farmers. the locals there are very friendly, generous and gives really warm smiles. Then you will be taken to the Cai Rang floating market as well as the Phong Dien market which at that time is really busy and full of people.
So here is a simple itinerary:
First day: You will be going on this route, first to Ho Chi Minh city to My Tho, then Ben Tre and finally to Can tho.
The start of the day is as early at 7:40 am, this is when the bus will pick you up from Ho Chi Minh city and will take you to My Tho. Here you will then transfer to a wooden motor boat, that will then give you a ride towards Unicorn Island. This is a perfect place for travelers to see rural areas with fresh clean air , farmers or local villagers, and feel tranquility because the place is just so peaceful. Later on, you will then can have some of the local delicious and mouth watery tropical fruits that you can visit while heading for Turtle Island. You will then ride a tuktok or a small rowing boat to a small creek and get the more rural experience which will then take you to some local bee farm whre you can taste some sample and where you can watch and listen to folk music. You can also enjoy some coconut candy and see how they make it in the near coconut candy factory. In the evening you will then sleep at Can Tho.
Second day the route will be from Can Tho to Cai Rang floating Market then back to Ho Minh Chi City.
As usual, the day will start early because as you had breakfast, you will then head to the famous floating Market,. This floating market is one way for tourists to see one unique way for sellers of wholesale products to sell to buyers while riding a boat. You will get to see sellers who places sample of their products on a bamboo pole raised up high. You can cruise and see what they offer in this marketplace that takes on the river. Afterwards you will then head to a village that specialize in making rice noodles. Then head to the Monkey bridge and see another floating market by lunch. When sunset hits, you will then head back to Ho Chi Minh city.
So what is included in this package?
Tourist bus fully air conditioned
Tour guide (English speaking)
2 mineral water bottle
Boat trips
Entrance fee
Accommodation: depends on the travel agency you hired but mostly 2 star –4 star hotels
2 lunch packages and 1 dinner pac
About the Author:
Jack Stein from Viet Fun Travel, love writing, travel, music and eat exotic food., come from Australia.